Royer Labs was formed in 1998 to bring David Royer's unique, modern ribbon microphone designs to the world. When we first opened our doors, ribbon mics had been largely forgotten, but the R-121 and SF-12 quickly captured the imagination of recording enthusiasts around the world. This new generation of ribbon microphones proved to be a perfect match to the rise in popularity of digital recording, as engineers rediscovered the warmth, analog feel and smooth sound of ribbons. Today, Royers are found in studios and on live stages around the world.
Royer Labs Mission Statement
Royer Labs' mission is to bring the uniquely natural sound qualities of ribbon microphones to the world.
We believe in better microphones for better music.
Our path is constant reinvention and innovation in ribbon microphone technology.
Our goal is to impart warmth, realism and musicality into the digital recording process.
Our place is in every quality recording environment, from home workstations and world class studios to the concert stage.
We hold ourselves to the highest possible standards of workmanship, to provide engineers with the worlds finest and most durable ribbon microphones.
Every person at Royer Labs is here to provide outstanding customer service, at all times and at all levels.
David Royer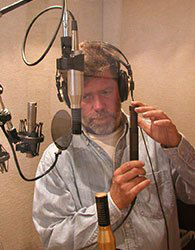 David Royer is one of an elite group of microphone designers who know that music and sound are inseparable from electronic design. Everything David designs comes from his deep, lifelong love of music.
David's focus on sound started in his home, where he grew up absorbing the classical and folk music that his parents played constantly. From an early age, he was transfixed by the orchestral recordings he heard, leading to a love of classical music that continues today. At 21, David decided to create his own recordings and purchased an Ampex 960 tape recorder and a couple of off-the-shelf consumer microphones. Unhappy with his early results, he started experimenting with his microphones and soon began an in-depth, lifelong study of microphone design and electronic theory.
After a four year hitch in the Navy, where he honed his skills in electronics and acoustics as a sonar technician, David started designing his own microphones. He founded a small company called Mojave Audio in his garage in Fullerton CA, where he modified amplifiers and made his own condenser microphones, mic pre's and compressors. Building gear under the Mojave and DVA labels, he created a number of condenser mics that have become somewhat legendary among a small group of high-end audio engineers including Bob Clearmountain, Mutt Lang and Sean Beaven. During the "garage period", David came across his first ribbon mic, a Reslo that needed repair, and his fascination with ribbon microphones was born. David eventually came to believe that ribbons are the most musical of all microphone types and he set out to learn everything he could about them.
In 1997 David designed his first ribbon mic and showed it to his friend Rick Perrotta (now president of Royer Labs). That microphone, which David named the R-121, led to the opening of Royer Labs in 1998. In a short period of time it became the breakthrough ribbon microphone that reintroduced the smooth, musical characteristics of ribbons to engineers around the world.
David's visionary designs continue today with "firsts" such as phantom-powered and tube ribbon mics.
Rick Perrotta
Rick Perrotta, President of Royer Labs, is a transplant from New England. He moved to California in 1973 and his career in electronics started with rebuilding Hammond organs, followed by work as an electric technician and design engineer. Fate and circumstance would eventually lead him to the studio business and the opening of Golden Sound in Hollywood (located in the old Radio Recorders building). During this time Rick engineered and mixed the debut album of L.A.'s favorite punk band X, as well as their follow up single White Girl.
A chance meeting with Rafael Villafane led to a friendship and business partnership and the creation of Baby'O Recorders, one of LA's best known and busiest studios during the 1980's. Baby'O's clients included Kiss, George Harrison, Oingo Boingo, Berlin, Red Hot Chili Peppers, Joe Strummer, Manhattan Transfer, Lakeside, and many others. After a decade of operating the successful studio, Rick and Rafael saw the impending change in the way records were made and decided to sell Baby'O in the early 1990's.
Rick went on to co-found Matchless Amplifiers, the company that is credited with kicking off the boutique amplifier boom. As President and Production Chief, he took the company from humble beginnings in his living room to its position as the premier high-end guitar amplifier company, raising the bar for amplifier manufacturers around the world. He sold his interest in Matchless in 1996, saying the company had "grown to big to be fun," and re-focused his energy and expertise on studio equipment.
Later that year he met David Royer and John Jennings. Rick and former Baby'O business partner Rafael decided to join forces and Royer Labs was created. Rick co-engineers and co-designs microphones with David Royer.
Rick lives in Burbank with his wife Anh and dog Tarah and still draws on his passion for music, electronics and mechanical perfection, making sure that every Royer product maintains the extraordinary level of craftsmanship Royer Labs is known for.
John Jennings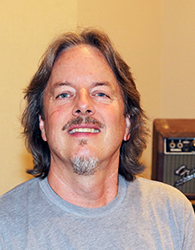 John Jennings has a mission: "I want to put ribbon microphones in the hands of everyone who records music."
John got his start, like so many audio professionals, as a guitar-player and singer on the east coast. Tempted westward by friends and opportunities, John moved to Hollywood in 1990, playing the Los Angeles club circuit and spending time in studios tracking with various bands.
In 1992 John took a detour into the corporate world, becoming VP Sales & Marketing for a Los Angeles based data and communications firm and playing music in the evenings. During a recording session in 1996, he came across a modified U-87 that sounded "unbelievably good." After an introduction to the man who modified the mic, David Royer, John left the suits & ties behind and teamed with David and another friend to start a new pro audio company – DVA. DVA ultimately closed due to production problems, but David had talked a lot about ribbon microphones during its brief existence. Between that influential commentary and an interview with Eddie Kramer in which Eddie said he always had a ribbon mic in the mix on Jimi Hendrix's guitar cabinets, John's life was changed.
John and Dave met Rick Perrotta and Rafael Villafane in late 1996. Digital recording was replacing the tape machines of the day, and the guys realized that there was a real need for the warmth and analog-like musicality of ribbon mics in the upcoming, more clinical world of digital recording.
After much discussion and numerous business plans, Royer Labs went into production in 1998 and John got busy handling the sales and marketing. The Royer R-121 was unveiled at the 1998 AES show, ultimately leading to the re-emergence of ribbon microphones around the world.
John Jennings serves as VP Sales and Marketing for Royer Labs. He says that his lifetime work is as "David Royer's pied piper," bringing David's ribbon microphone designs to studios and engineers around the world.
Rafael Villafane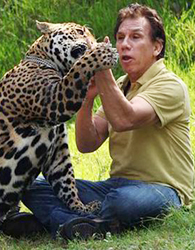 Rafael is a renaissance man, musician, producer, studio owner and night club owner – a true global citizen. A part of the extended Rosemary Clooney (aunt) Jose Ferrer (uncle) clan, Rafael has roots in both his native Mexico and Hollywood. He has both US and Latin based top-ten hits to his credit, including #1 hit "Cuando Mueres por Alguien" in Mexico which he co-wrote and produced for Erik Rubin, and multiple charting album You've Got It Baby'O as producer/artist (which received the prestigious Billboard Award) in the US.
A graduate of Amherst College, he first met Rick Perrotta at Golden Sound Studios, Hollywood in 1979. While producing two top-ten singles on the Billboard dance chart in 1981 "In the Forest" and "Dance All Night," Rafael and Rick developed a relationship that led to their partnering in Baby'O Recorders, a major L.A. studio throughout the 80s. The facility shared its name with successful night spot Baby'O Acapulco (co-founded by Rafael), which just celebrated its 30th Anniversary.
Rafael also founded live venues Bulldog Café/Mexico City and Bulldog Café/Cancun where he performs or jams regularly, as have the likes of Guns & Roses members Slash, Matt Sorum, Gilbey Clarke, Duff McKagan, Radiohead, Sebastian Bach, Vince Neal, Blues Saraceno and the list goes on.
As one of the founding partners of Royer Labs, Rafael (stage name Raal AKA Raalzheimer) brings a real world point of view to the Royer family. Catch him at one of the clubs, say "Royer Ribbons Rock" and the first round is on the house.
SaveSave