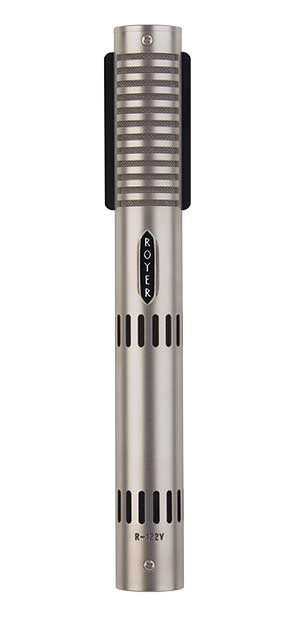 R-122V Vacuum Tube Ribbon Microphone
The R-122V is the pinnacle of our R-Series line, a world-class tube ribbon microphone exhibiting unparalleled richness, depth, and detail, particularly in the midrange frequencies. With a lushness that has to be heard to be truly appreciated, the R-122V offers the ultimate in ribbon microphone performance for those who insist on the very best.
The R-122V takes the Royer-pioneered concept of active ribbon microphone technology to an unprecedented level by incorporating vacuum tube electronics into the same proven transducer system used in the venerable R-121 and R-122 ribbon microphones. The high operating voltage of the vacuum tube provides headroom far beyond that available from a standard phantom power supply. Sonically this translates into unmatched clarity, detail, and airiness, along with the ability to handle brute SPL levels without flinching.
The Electronics
The R-122V's head amplifier consists of a low-noise, triode-connected military grade 5840 vacuum tube. Designed for a wide range of applications, the R-122V offers superb transient response and the drive capabilities only a vacuum tube head amplifier can provide. The circuit is devoid of typical vacuum tube coloration.
The R-122V's triode-configured cathode follower circuitry enables the microphone to drive long cable runs without sonic degradation or high-frequency loss. This capability is further enhanced by the R-122V's dedicated power supply, which provides ample current to the vacuum tube electronics. Induced noise is virtually eliminated by the microphone's fully balanced output, which is electrically isolated with a special purpose Jensen output transformer.
Like our phantom powered R-122, the R-122V has far more level than non-powered ribbon microphones and its impedance matching circuitry places a perfect load on the ribbon element at all times. This allows the use of a wide variety of mic preamps without concern for gain and impedance matches, two critical issues with ribbon microphones. All of the R122V's increased output comes from its large, specially designed toroidal transformer, so there is no additional noise associated with the microphone's higher output.
Patented Offset Ribbon Technology
The R-122's proprietary offset ribbon transducer (Patent Number: 6,434,252) positions the ribbon element closer to the front (logo) side of the microphone than the rear. This arrangement gives the ribbon more room to move within the prime magnetic field while maintaining full frequency response during high SPL recordings. It's an integral piece of the magic of all Royer R-series microphones.
---
Features
Vacuum tube electronics provide high output capability, optimal impedance to the ribbon element and low output impedance
Extremely low self-noise
Operates from a dedicated power supply
High SPL capabilities for electric guitar and percussion instruments
Absence of high-frequency peaks, "ringing" and phase shifts
Ribbon element unaffected by impedance/load, heat or humidity
Very low magnetic leakage
Equal sensitivity from front or back of element
Consistent frequency response regardless of distance
Rear side of mic records slightly brighter when three feet or closer to sound source
Applications
Orchestral miking, close and distant
Strings - solo & sections
Acoustic Piano, Harp, etc.
Electric Guitar
Acoustic Guitar
Vocals, Commercial Broadcast, Voice Over
Brass, Horn Sections
Drum Overheads, Room Miking
Percussion Instruments
Artist
Material
Engineer, Producer
Microphone
Instrument
Genre
Media
Adam Del Monte
Ribbons Only
R-122V
Acoustic Guitar, Classical
Guitar
Classical
Video
Alan
Meyerson (Scoring Engineer)
Full Mix
Alan Meyerson
R-122V
Woodwinds
Classical, Scoring
Audio
Calexico
Full Mix and Isolated Ribbon
Tracks
Craig Schumacher
R-122V
Cello, Acoustic Guitar
Americana, Tex-Mex, Indie
Audio
DevotchKa
Full Mix and Isolated Ribbon
Tracks
Craig Schumacher
R-122V
Strings, Violin
Indie Folk, Indie Rock
Audio
Jonathan Merkel
Ribbons Only
Jonathan Merkel
R-122V
Electric Guitar, Home Recording
Hard Rock
Video
Mark Holdaway
Ribbons Only
Tim Weed
R-122V
Kalimba, Percussion
World
Audio, Photos
Paul Galbraith
Full Mix
Al Schmitt
R-122V
Classical Guitar, Acoustic
Guitar
Classical
Audio, Photos
Fab recording
Will Knox
Ribbons Only
Alan Meyerson
R-122V
Drums Overhead
Soundtrack
Audio, Photos
LAGQ
Full Mix
Robert Friedrich
R-122V, R-121
Acoustic Guitar, Flute
Brazilian, World
Audio, Photos, Video
Jamie Laval
& Ashley Broder
Full Mix and Isolated Ribbon
Tracks
Jay Manneschmidt
R-122V, SF-24
Violin, Mandolin, Fiddle
Folk, Celtic
Audio, Photos
Technical Specifications
Acoustic Operating Principle: Electrodynamic pressure gradient with vacuum tube
electronics.
Vacuum Tube: JAN mil-spec 5840W pentode wired in triode configuration
Polar Pattern: Figure-8
Generating Element: 2.5-micron aluminum ribbon
Magnets: Rare Earth Neodymium
Frequency Response: 30 -15,000 Hz +/- 3dB
Sensitivity: -36 dB (re. 1v/pa +/- 1 dB)
Self-Noise: < 18 dB
Output Impedance: 200 Ohms, balanced
Rated Load Impedance: 1 K-Ohm
Maximum SPL: >135dB SPL @ 20 Hz
Power Requirements: Plate supply: 135 VDC @2ma, Filament supply: 6 VDC@ 150ma from dedicated power supply.
Dimensions: 206mm L, 25mm W (8 1/8 " L, 1" W).
Weight: 300g (10.9 oz )
Finish: Dull Satin Nickel/Matte Black Chrome optional
Polar Pattern
Frequency Response
Pro Audio Review - Royer Labs R-122V Ribbon Microphone Can it possibly be better than Royer's other ribbon mics? Read and see...
Tape Op - R-122V Review
Mix - Field Test: Royer R-122V Tube Ribbon Mic