Click on any ad to get a behind-the-scenes look at the photo shoots with these great engineers
---
Alan Meyerson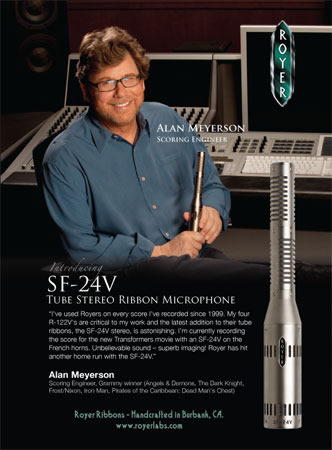 Scoring engineer Alan Meyerson uses his five R-122V tube ribbons regularly, so he was naturally the first engineer we asked to try the prototype SF-24V. He liked it (we couldn't get it back for 5 months!), so when the mic went into production we asked Alan if he would do an ad for us. Photographer Ana Gibert set up in Alan's outstanding home studio and we ended up with a lot of great shots to pick from.
---
Al Schmitt
Al's such a pal! He has a few of every mic we make and uses them on all of his recording sessions, which we're often invited to sit in on. When we released the R-122V, Al agreed to help us promote the then-new tube-ribbon concept. Al's son Chris Schmitt is an excellent photographer who did the shoot. It was great to watch the father-son team working together!
---
Joe Chiccarelli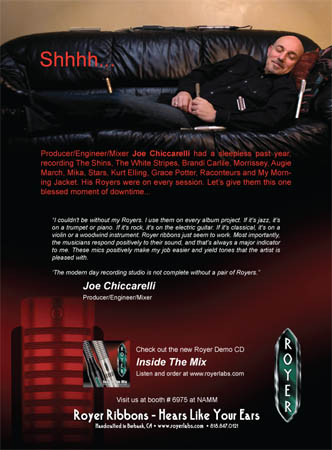 When we went to shoot a 1/3 page ad with Joe Chiccarelli (see the ad below), he suggested doing something different. "I've had a really busy year and my Royers were on everything I tracked. How about we shoot me laying down on a couch with my mics all over me, like we're all tired and finally getting a break?" That was a great idea and 6 months later we did the shoot with photographer Ana Gibert.
---
Jim Ebdon with Matchbox Twenty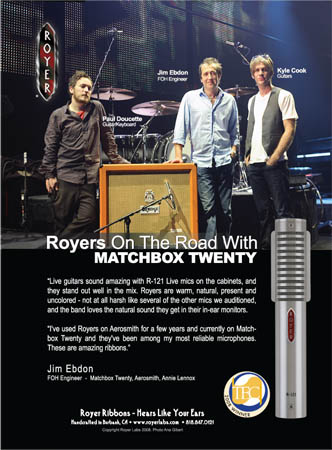 We caught up with Matchbox Twenty in Los Vegas for this shoot. FOH engineer Jim Ebdon was using four R-121 Live mics on the guitar cabs (he had used studio R-121's on Aerosmith's live guitars for years). Matchbox guitarists Kyle Cool and Paul Doucette sat in on the shot (taken by photographer Ana Gibert) and gave it loads of cool factor – a great group of guys.
---
Keith Urban's FOH Engineers Steve Law and Jason Spence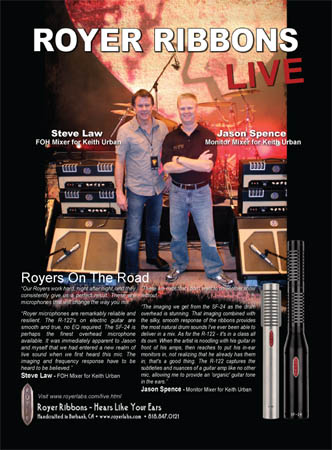 Pro Sound News Editor Frank Wells called in 2007 to say he had just photographed a live Keith Urban show and there were Royers on Keith's guitar amps and on drum overheads. We called monitor mixer Jason Spence and went to see the show in LA. One thing led to another and three months later we ran our first Live-series ad with Jason and FOH engineer Steve Law.
---
Bruce Swedien, Al Schmitt and Ed Cherney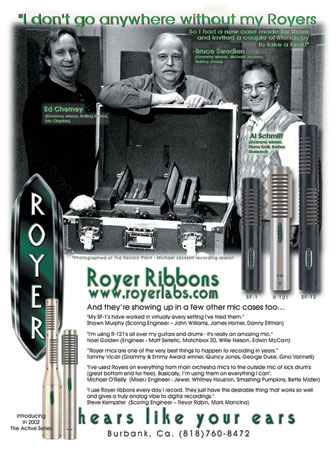 This is priceless! Bruce Swedien called to tell us that he had retired one of his road cases and replaced it with a new case dedicated solely to his Royer ribbons. We asked if he'd let us shoot him with the case, and then asked Al Schmitt and Ed Cherney if they'd stop by for the shoot. What a great lineup!
---
Bruce Swedien

When we first released the phantom powered R-122 in 2002, it was the world's first phantom powered ribbon mic and the industry was a bit hesitant. Ribbons and phantom? Huh? But then ribbon-mic-lover Bruce Swedien told us it was his favorite ribbon mic ever. We released this ad and the mic became an instant success, selling around the world in large numbers. Just another example of how influential this great engineer really is.
---
Michael Beinhorn

In 2005, Michael Beinhorn had Ross Hogarth engineer a project. Ross set up his Royers on drums and guitars, and Michael called us later that day to say that he hadn't been a big fan of using ribbons on drums before, but the SF-24 was great on his kit. He also found that if he muted the R-121 guitar mics and just left the other mics up, the guitar tone fell apart. He agreed to do an ad that day – what a great call!
The camera died immediately after the ad photo shoot… guess it couldn't handle the cool factor.
---
Joe Barresi

Joe Barresi was the first engineer to try our prototype R-121 in 1997. His comments helped us get the R-121 to production level and he's been a friend ever since. Joe was tracking Pearl Aday (Meat Loaf's daughter) at Chuck Kavooris' studio and we did this shoot at midnight after a day of tracking. Pearl warmed him up for the shot!
---
Joe Chiccarelli

Joe Chiccarelli is a long-time friend of Royer, helping us out with beautiful string tracks in 1998 for our first demo CD. We did the standard console shot for this ad, but we tried a few other things while we were at it and it was here that Joe came up with the couch ad idea (above).
---
Ross Hogarth

Ross Hogarth is family here. We've spent many days in the studio with him, and put up almost every prototype mic we've ever made to get his exceptional ears on them. If it gets a Ross thumbs-up, it's usually a winner. Ross's 3-mic guitar method has become a standard with a number of engineers since we posted pictures of it in our Session Photos section.
---
Alan Meyerson

One of the busiest scoring engineers in the business, Alan Meyerson has five of our first ten R-122V's. He was the first scoring engineer to try them, and he uses them for everything from his Decca Tree mics to woodwind and string overheads and spots. The mics in between the fingers thing was fun and we went with it.
---
Lyle Workman

Session guitarist Lyle Workman has been tracking with R-121's on his guitar cabinets for years. He invited us into his home studio for this photo shoot. We did some standard shots, but the pic we ended up using was his idea. It got a good reaction in Guitar Player magazine.