Sling-Shock Microphone Shockmount
The Sling-Shock™ (Patent No. 8,571,250) is a revolutionary departure from traditional shockmount designs. We've done away with unreliable rubberized parts and elastic cords, producing a durable shockmount that provides exceptional isolation from vibration, rumble and resonances.
Our proprietary system of non-resonant nylon cable and damped steel springs acts to isolate the microphone from vibrations induced from the microphone stand. These vibrations appear as rumble and/or low-grade noise across the bandwidth and are greatly reduced by use of the Sling-Shock.
Sling-Shocks also eliminate the self-resonance that traditional shockmounts can generate on high SPL applications like close-miked electric guitar. Shockmount self-resonance creates harmonic interferences at various frequencies – Sling-Shocks eliminate the issue. The Sling-Shock's superior vibration-reduction capabilities and lack of self-resonance allow engineers to capture performances free of vibration-related interference across the bandwidth.
A cable clip is included on each Sling-Shock
. Loop a length of cable under the microphone, then secure the cable to the mic clip to minimize cable-related vibrations.
Sling Shock Features:
Superior isolation from vibration, shock and rumble
Lack of self-resonance on high SPL applications
Felt-lined, scratch-free microphone chamber holds mic securely
No rubberized parts to degrade or stretch
Built in microphone cable clip minimizes cable-related vibration
Flexible for easy microphone positioning
Lifetime warranty
"…I have yet to find an instance when it (the Sling-Shock) didn't improve the performance of my recording.

…floor vibrations are common in drum rooms (when not on a concrete slab) and the Sling-Shock does a fantastic job of eliminating them without cutting into the body of kit's sound.

My favorite application is using the Sling-Shock with a Royer R-122 on electric guitar. The R-122 already has a tight bottom end but the low-frequency clarity and fullness is even better with the Sling-Shock.

Simply stated, the Sling-Shock is a great, straightforward way to improve any microphone-sourced signal chain."

Read Full Review
"I found it to be easy to use and extremely effective in isolating even quite extreme mechanical vibrations and shocks. The build quality is excellent…"

Read Full Review
Sling-Shock RSM-SS1
The Sling-Shock RSM-SS1 is sized to fit Royer's 1-inch diameter ribbon mics; R-121, R-122 MKll, R-122V and SF-12 ribbon microphones. The RSM-SS1 will work with any cylindrical microphone measuring approximately one inch in diameter (+/- 1/8 inch).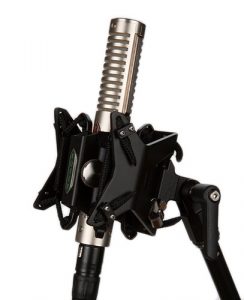 Sling-Shock RSM-SS24
The RSM-SS24 accommodates Royer's SF-2, SF-24 and SF-24V microphones, and any cylindrical microphone measuring approximately 1 ½ inch in diameter (+/- 1/8 inch).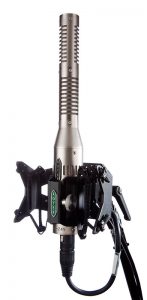 ---