Introduction to Recording Orchestra
Engineers use a wide variety of techniques when recording orchestras or small ensembles, from simply placing one stereo microphone just above and behind the conductor's head to using several spot mics for each instrument section in conjunction with one to several ambient microphones.
In this section we'll look at sessions where Royers were used to capture full orchestras as well as smaller ensembles.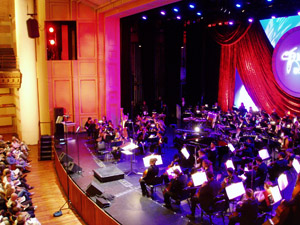 Here's an example of a simple miking technique for full orchestra using one stereo Royer SF-24. The placement is 4-5 feet behind, and several feet above, the conductor.
Ukrainian Radio Television Orchestra
Audio Clip
Ukrainian Radio Television Orchestra
This outstanding audio clip was provided by Russell Dawkins, who used one SF-12 to record the Ukrainian Radio Television Orchestra (sorry, we have no pictures of the recording). The recording chain was: one SF-12, 35 feet Monster cable, Studio Technologies mic pre, 6 feet Monster cable, Apogee A/D converter, coaxial cable, digital in on a portable DAT machine. Recorded at the studios of the Ukrainian Radio/Television Orchestra, Kiev.
Various Set-ups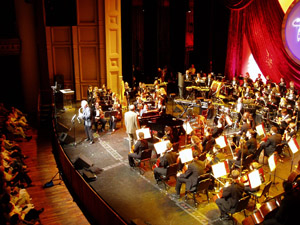 Here's another shot from the Henry Mancini Orchestra session showing an R-122 as a spot mic on the sax soloist.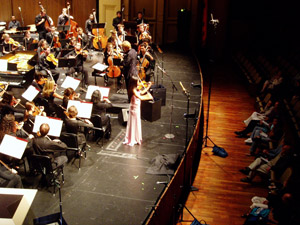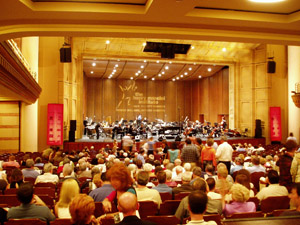 In this photo from the same concert, an R-122 was used to capture the solo violinist. The gold SF-24 stereo ribbon microphone to the right of the violinist was used for choir pickup in a later song.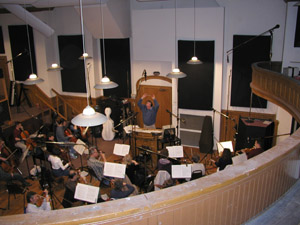 For this small orchestra, all sections were spot miked and a Royer SF-24 stereo ribbon mic was placed over the conductor's head, an excellent location for getting a realistic audio picture of the orchestra and bringing cohesiveness to the final mix.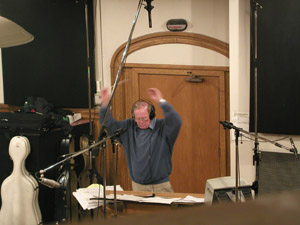 Close up on the conductor and SF-24.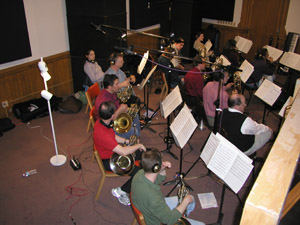 Two Royer R-122s spot miking the French Horn section.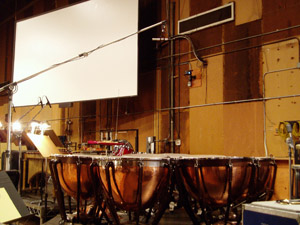 Scoring session at Sony with an R-122 spot mic on the timpani.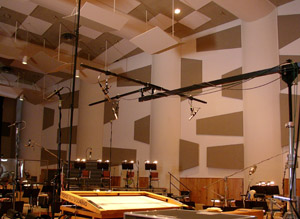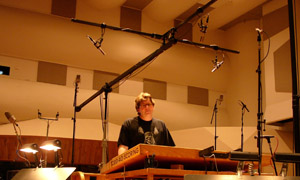 Decca Trees are often used when recording orchestras. Developed in the early 1950s by a team of engineers at Decca Records, this method involves using a spaced stereo pair of mics with an added center fill, usually placed over the conductor. Scoring engineer Alan Meyerson often uses three R-122V's on the Decca tree, with a backline of condenser mics behind the conductor. This picture was taken during the scoring session for Pirates of the Caribbean, Dead Man's Chest.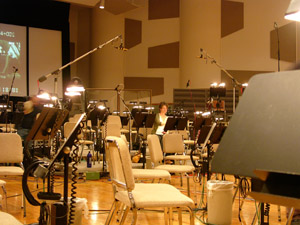 Two R-122V's as overhead mics on the woodwind section. In this position, the R-122V's figure-8 pattern picks up the woodwind instruments and also rejects the brass section which is positioned behind the woodwinds.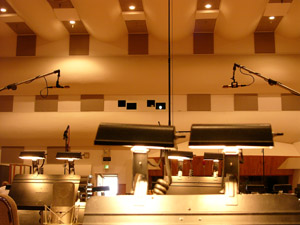 Another view of the R-122V's as overheads on the woodwind section.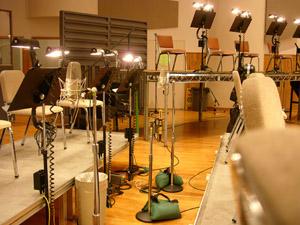 An additional R-122V is placed behind the bassoon.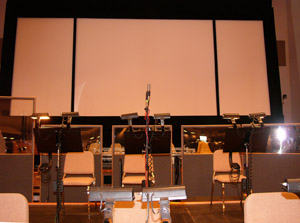 A single R-121 was used to capture the three seat trumpet section.